DRAGON FESTIVAL 2021
Friday, October 15 and Saturday, October 16
10 a.m. to 6 p.m.
Virginia Museum of Natural History

**COVID-19 VACCINATION OR NEGATIVE COVID-19 TEST RESULT REQUIRED TO ATTEND DRAGON FESTIVAL FOR AGES 12 AND OLDER**
(Posted September 17, 2021. Revised September 18, 2021.)

The VMNH Dragon Festival normally draws crowds of people. To ensure full safety for all guests, vendors, performers, and staff, the Virginia Museum of Natural History will institute strict policies for participation in light of the COVID-19 pandemic and the circulation of highly transmissible variants.

For the Dragon Festival on 15-16 October 2021, VMNH will require proof of a full course of COVID-19 vaccination or proof of a negative COVID-19 lab test (no at-home tests) taken within 72 hours prior to the event for patrons 12 and older.

Patrons must present a completed paper or digital vaccination record that shows the last shot administered at least 14 days prior to the event, as well as a valid ID. We will also accept a negative COVID-19 lab test result (no at-home tests) that shows the test taken within 72 hours prior to the event coupled with ID.

In addition, the use of masks is highly recommended inside VMNH, as well as on grounds while interacting with staff and vendors.

This policy applies to anyone who enters the grounds and building, including guests, employees, contractors, and volunteers (unless they are actively eating or drinking) and performers (unless they are actively eating, drinking, or performing).

These policies are consistent with the most current recommendations issued by the Centers for Disease Control and Prevention (CDC) as well as the Virginia Department of Health (VDH). Medical and religious exemptions for paid guests, vendors, performers, and VMNH members are not accepted at this event.

Keeping a safe family environment for all is our first priority.

We appreciate your cooperation and look forward to welcoming you to the VMNH Dragon Festival!
*Please be sure to continue checking this page for any additional updates or changes.*
---
About Dragon Festival
Science, history and myth collide during Dragon Festival at the Virginia Museum of Natural History on Friday, October 15 and Saturday, October 16, 2021 from 10 a.m. to 6 p.m.! Explore the lore of dragons, the impact these creatures have had on societies across the globe, and the science behind the growth and dissemination of their myth! All of the sights and sounds that make the myth of dragons so alluring will be in full-force throughout the day!

This year's event features the Dragon Festival debut of Tiamat, an incredible 37 foot-long dragon designed and created by J. Leigh and The Color of Mud Studio!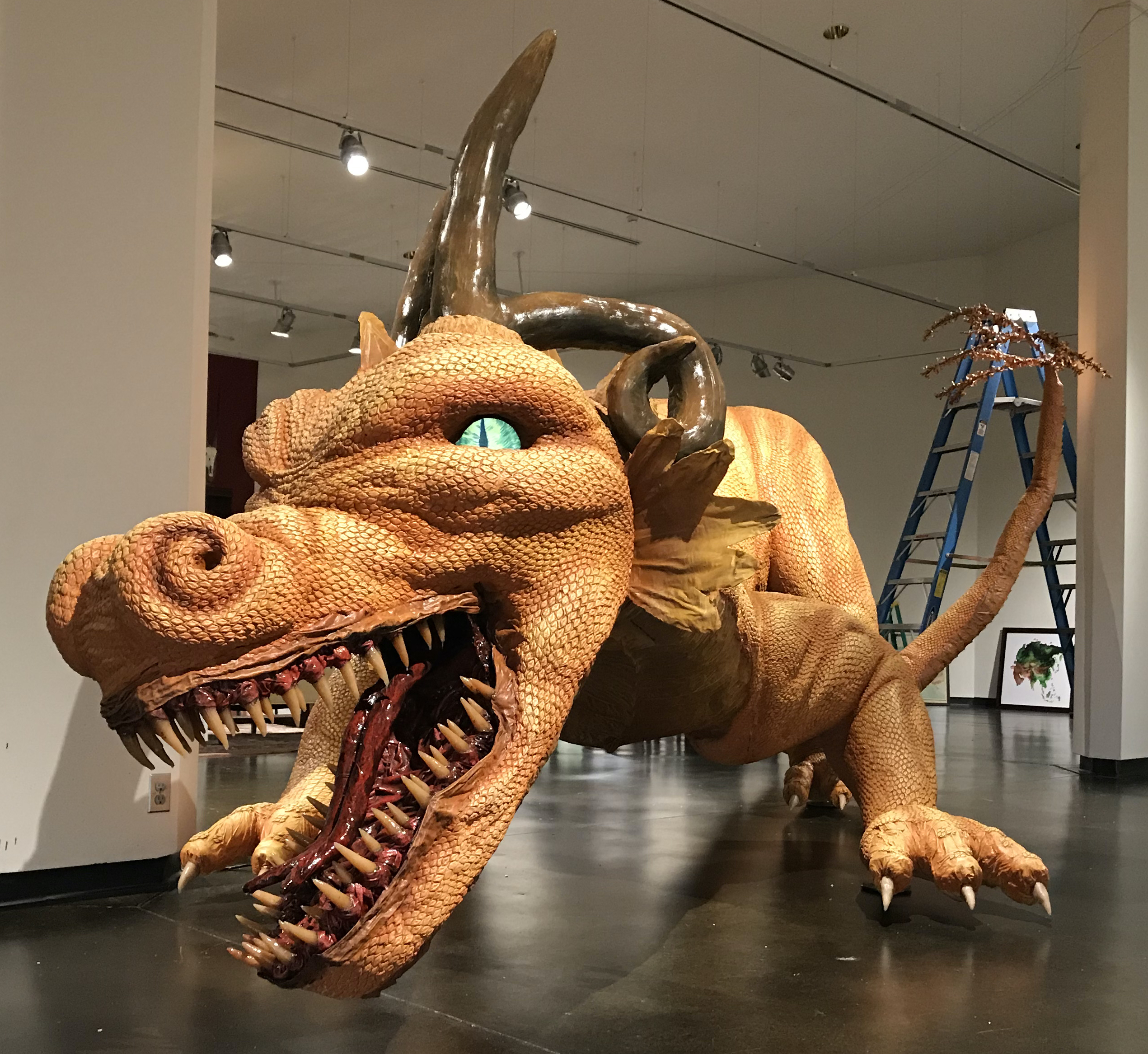 FESTIVAL EXPERIENCES INCLUDE...
Dragon Displays and Art
Full-Size Dragon Sculpture
Fire Performances

Friday 2 p.m. and 4 p.m.
Saturday 11 a.m., 2 p.m. and 4 p.m.
Each fire performance is approximately 12-15 minutes in duration.

Blacksmith Presentations
Stilt Walkers

Friday 11 a.m. to 1 p.m.
Saturday Noon to 1 p.m & 2 to 4 p.m.

Sci-Fi and Fantasy Authors
Beer & Meade Garden

Noon to 6 p.m.
$5 per beer/meade ticket

Ren Faire Marketplace
Games, Crafts and Activities
Food Trucks
Music
***Additional schedules for presentations and performances will be announced on this webpage in the coming days.

**Due to the uncertainty of the current pandemic, please note that activities, presentations, offerings - or the festival itself - may have to be altered or canceled with little to no warning. Please keep an eye on this webpage for any changes, postponements or cancelations.
FESTIVAL ADMISSION
**Come dressed in your favorite family-friendly dragon, medieval, or fantasy costume and receive free festival admission!**
$10 for ages 18-59
$5/Ages 3-17
$5/Seniors 60+
FREE for children under 3
FREE for museum members
FREE for members of ASTC participating institutions
FREE for EBT card holders who present their EBT card and official photo ID
Groupons are accepted!
Admission is available at the door.
VENDOR APPLICATIONS
Please note that the deadline for vendor applications has passed. If you are a vendor and interested in participating in future events, please email Robbie Hendrix, event manager, to learn more.
DRAGON FESTIVAL IS MADE POSSIBLE BY:
The Dragon Research Collaborative
www.facebook.com/DragonResearchCollaborative
dragonrc.net

J. Leigh and The Color of Mud Studio
www.facebook.com/thecolorofmud
thecolorofmud.com

Roanoke College
www.facebook.com/roanoke
www.roanoke.edu
Special thanks to the support of:
The Patterson Charitable Foundation Trust