About Petra
Virginia is full of wonders waiting to be discovered...and we ain't kitten you!

The museum is now home to the incredibly well-preserved fossil remains of an ancient cat recently extracted from deep within a cave in western Virginia. Affectionately named "Petra", the skeleton laid undisturbed for many centuries until a field crew of nearly a dozen experts led by former Virginia Museum of Natural History Assistant Curator of Paleontology (and current Fitzpatrick Chair of Paleontology at the Science Museum of Minnesota) Dr. Alex Hastings extracted the fossil remains and successfully transported them to their new home at VMNH in late 2021.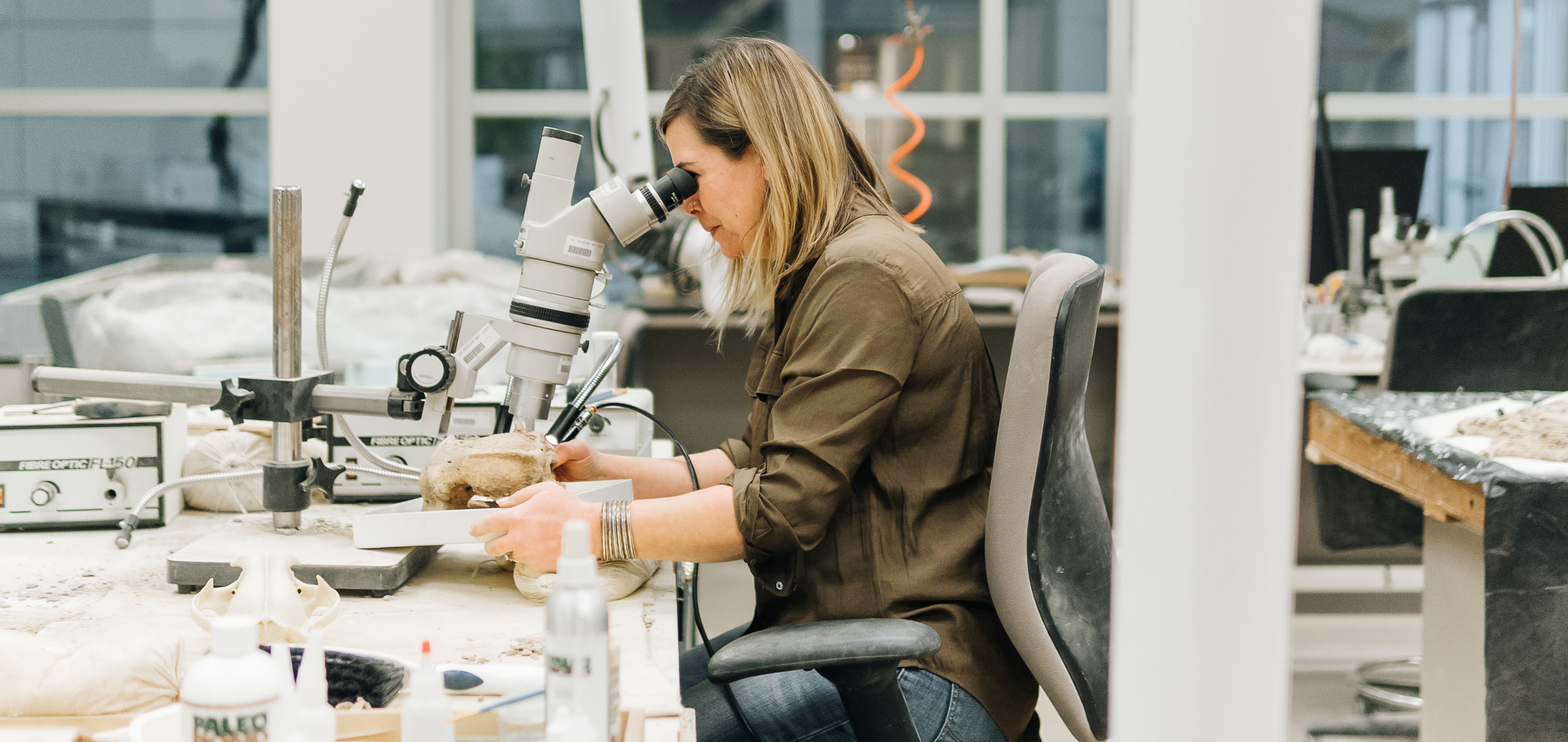 VMNH Paleontology Research Technician Lucy Treado with Petra's skull under the microscope
While the species and exact time period in which Petra lived remain a mystery, researchers currently believe it could possibly be an ancient cougar or even an American cheetah (Miracinonyx inexpectatus), an extinct species that lived during the Pleistocene epoch, which ended approximately 11,700 years ago with the end of the last Ice Age.

The fossil remains are currently located inside the museum's Elster Foundation Vertebrate Paleontology Lab, where VMNH Assistant Curator of Paleontology Dr. Adam Pritchard and Paleontology Technician Lucy Treado have begun the formidable work of preparing the fossils for scientific research and eventual exhibition inside the museum galleries.

Right now, museum visitors can view portions of the fossil remains from within the Harvest Foundation Hall of Ancient Life!
---
* Header photo of Petra is courtesy of Katarina Kosic Ficco, Virginia Department of Conservation and Recreation, Division of Natural Heritage, Karst program