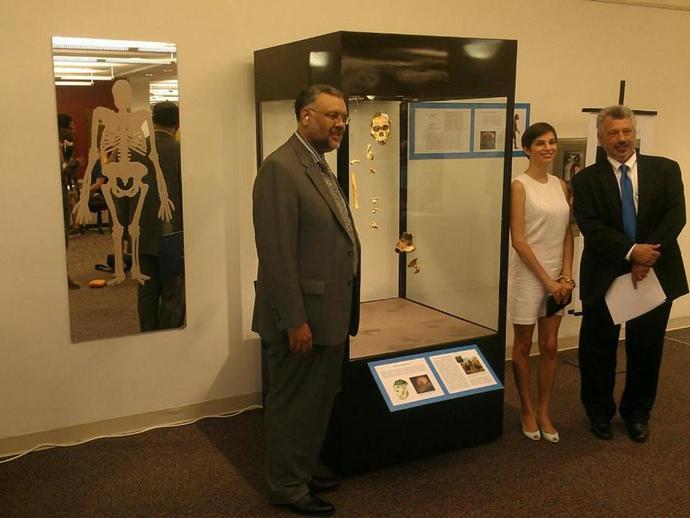 The exhibit Australopithecine!
August 30, 2012
The exhibit Australopithecine! recently opened at the Cabbell Library at Virginia Commonwealth University. The exhibit is curated by Dr. Noel Boaz, founding director of the Virginia Museum of Natural History. VMNH staff partnered in the development of the exhibit, which highlights Australopithecus sediba, a sensational new anthropological discovery from South Africa. After its closing at VCU, the exhibit will travel to VMNH for a summer 2013 opening. Pictured from left to right are Ebrahim Rasool, the Republic of South Africa's Ambassador to the United States, Lindsay Tarin, a VCU Anthropology major who interned with Dr. Boaz and worked on the Australopithecine! exhibit, and Dr. James Coleman, Dean of the College of ...
---
http://www
August 24, 2012
http://www.ncparks.gov/News/releases/release.php?id=266
---
The museum's ongoing partnership with Petridish
August 20, 2012
The museum's ongoing partnership with Petridish.org has generated significant funding for scientific research at the Carmel Church, VA site, thanks to support from donors at all levels. Click the link below for recent updates and news, and thank you for your continued support!
---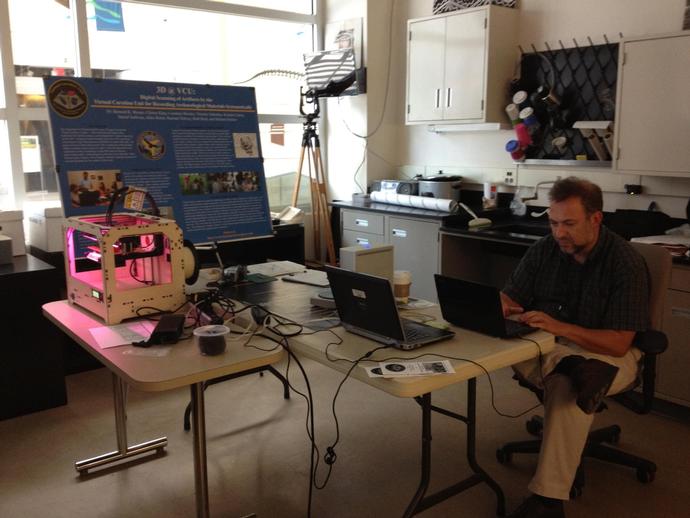 On August 13th and 14th, Dr
August 16, 2012
On August 13th and 14th, Dr. Bernard Means, of the Virtual Curation Unit at Virginia Commonwealth University (VCU), visited VMNH to conduct 3D scanning of a variety of materials. Dr. Means scanned several archaeological objects, including some bone tools and projectile points. He also tested the scanner's abilities with recent invertebrates and fossil fish bones. While in the archaeology lab, Dr. Means also demonstrated the MakerBot printer, producing several replicated artifacts. VMNH staff, local business leaders, and area educators were able to view the scanning and replication process and discuss how it could be used, not only to further VMNH's mission of research and education, but how the community could benefit from ...
---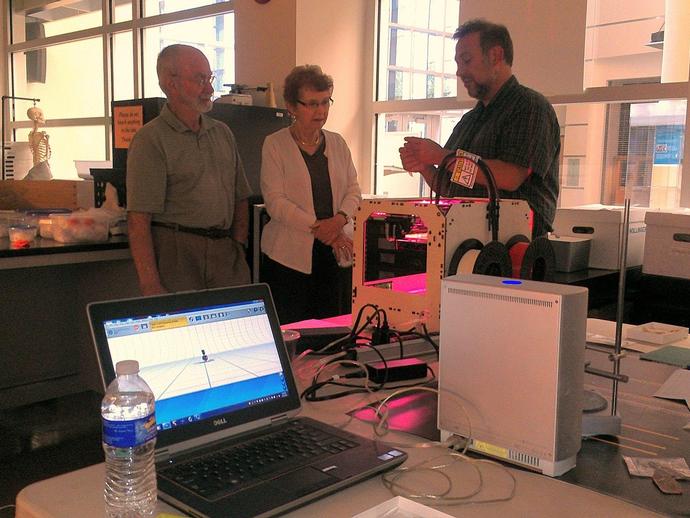 On 14 August ...
August 15, 2012
On 14 August, VMNH hosted a demonstration of a 3-D scanner and printer for making plastic replicas of specimens and artifacts. The computer files are 3D representations of scanned bones, artifacts, and other items which can easily be shared. The replicas can be used in exhibits and teaching - painting them makes for a replica difficult to discern from the real object! In attendance were Mervyn and Virginia King (pictured with VCU faculty Dr. Bernard Means), Glen Wood, Angela Godwin, and George and Jean Adams. The demo was arranged by our archaeologist Elizabeth Moore.
---
Our Exhibits staff is busy installing Wild Watersheds thanks to a generous grant from American ...
August 10, 2012
Our Exhibits staff is busy installing Wild Watersheds thanks to a generous grant from American Electric Power. It will slowly go up over time, and we are seeking additional funds for further elements. First up will be an interactive watershed map, specimens of stream biota, and other items giving people a sense of what makes a watershed and why that information is important. Stop by often, and watch the gallery transform as the summer progresses! Dr. Joe Keiper, Director
---
Dr
August 3, 2012
Dr. Joe Keiper, executive director of VMNH, serves as the moderator for a recent public forum on uranium mining held in Chatham.
---
Archives
2023
2022
2021
2020
2019
2018
2017
2016
2015
2014
2013
2012
2011
2010
2009
2008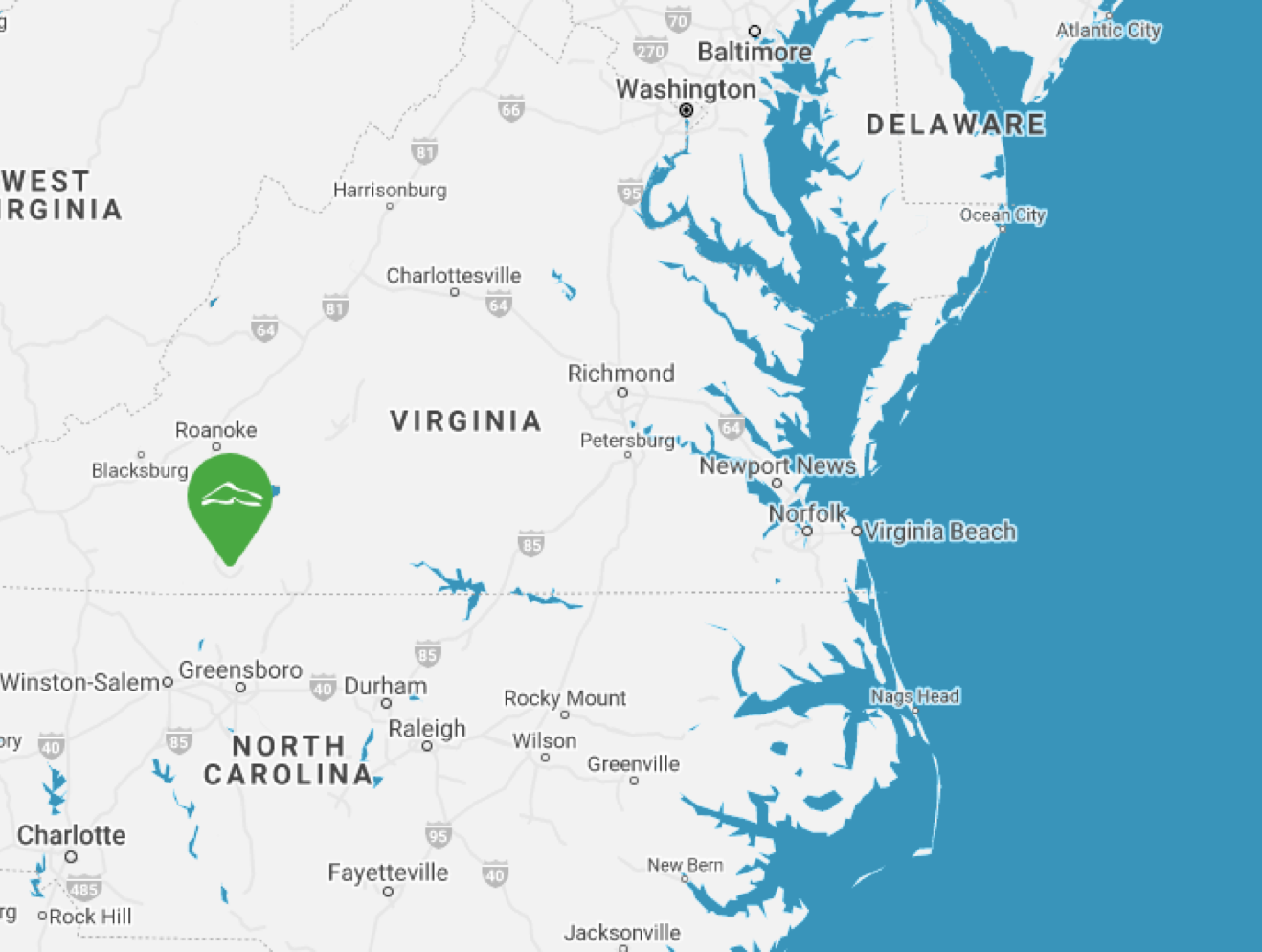 Please Visit Us Soon
Hours:
Tuesday - Saturday: 10am - 4pm
Sunday - Monday: Closed
Admission:
$10 for ages 18-59
$5 for ages 3-17, seniors 60+, and college students
FREE for children under 3, museum members, and members of ASTC participating institutions
"
My 4 year old son loves going to the museum. The exhibits are educational, interactive and kid-friendly.
"
Hear More